Sweatpants are also known as your casual comfort companion because comfort is timeless. They are comfy companions beckon with an allure that speaks a universal language of comfort.
With an easy, elastic waistband & relaxed fit, they extend an open invitation to cozy relaxation. Whether you're unwinding at home, heading out for a stroll, or simply embracing a day of ease, sweatpants like Flare Sweatpants prove that comfort can be both attractive and inviting in its uncomplicated form.
Flare sweatpants can fit with any outfit easily. They're like a friendly and versatile piece of clothing that goes with everything. Whether you want to be super comfy at home or add a laid-back touch to your look outside, sweatpants work. They're like that reliable friend who's always ready to join the party and make everything more relaxed and fun.
So, to be comfortable and relaxed, wear some sweatpants, and you're all set! Now, if you are looking for the best outfit ideas with Flare Sweatpants Women, this guide will help you nail every fashion. 
Explore the Best Outfit Ideas with Flare Sweatpants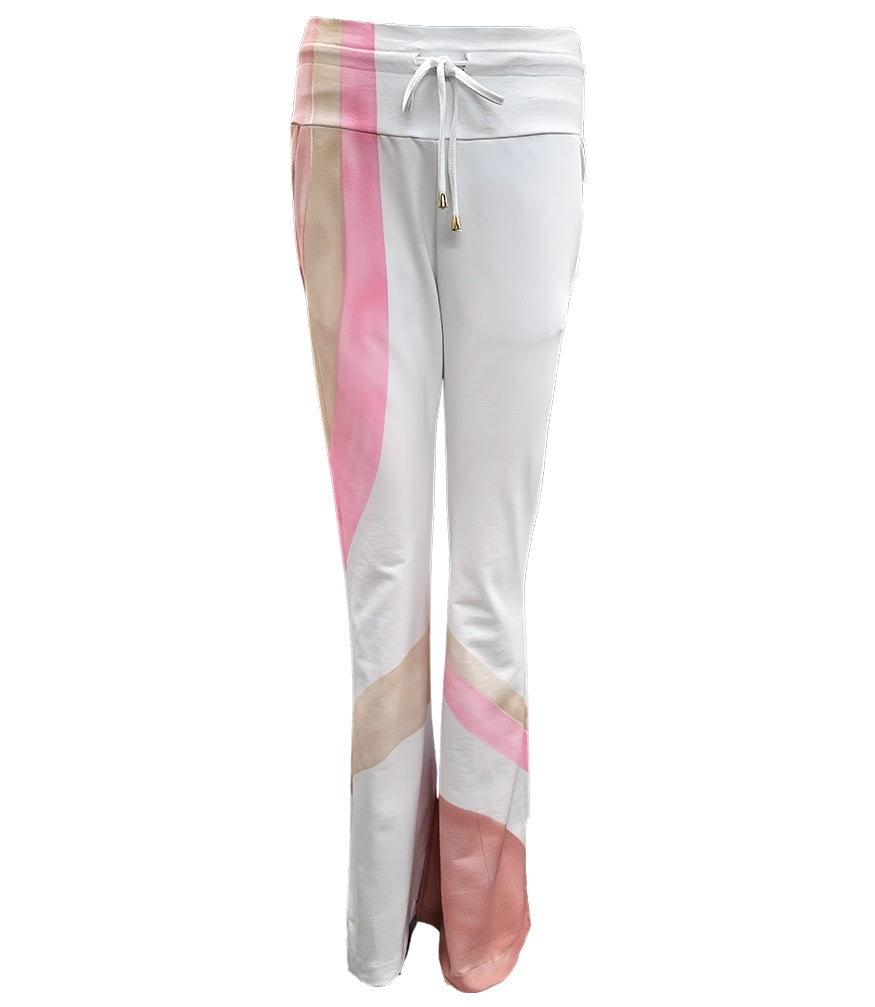 Get ready to feel fancy with the Designing Hollywood X Madison Maison White Flare Sweatpants. These special sweatpants are made in Italy and have beautiful hand-painted details. They're super soft because they're made from comfy cotton. They are not just comfy; they also look stylish with a sleek shape. When you wear White Flare Sweatpants, you'll feel like a superstar and look amazing, too!
Consider these Outfit Ideas
You can make great outfits with white flare sweatpants in simple ways. 
Match them with a cool t-shirt and comfy sneakers for a casual but stylish look. 
Wear a warm sweater or hoodie with your sweatpants if you want to feel cozy.
To get a sporty look, add a sporty jacket and athletic shoes.
And if you want to look extra nice, you can even dress up your sweatpants with a fancy top and some stylish shoes. 
So, there are many ways to make cool outfits with white flare sweatpants, and you can choose the one that fits your style best!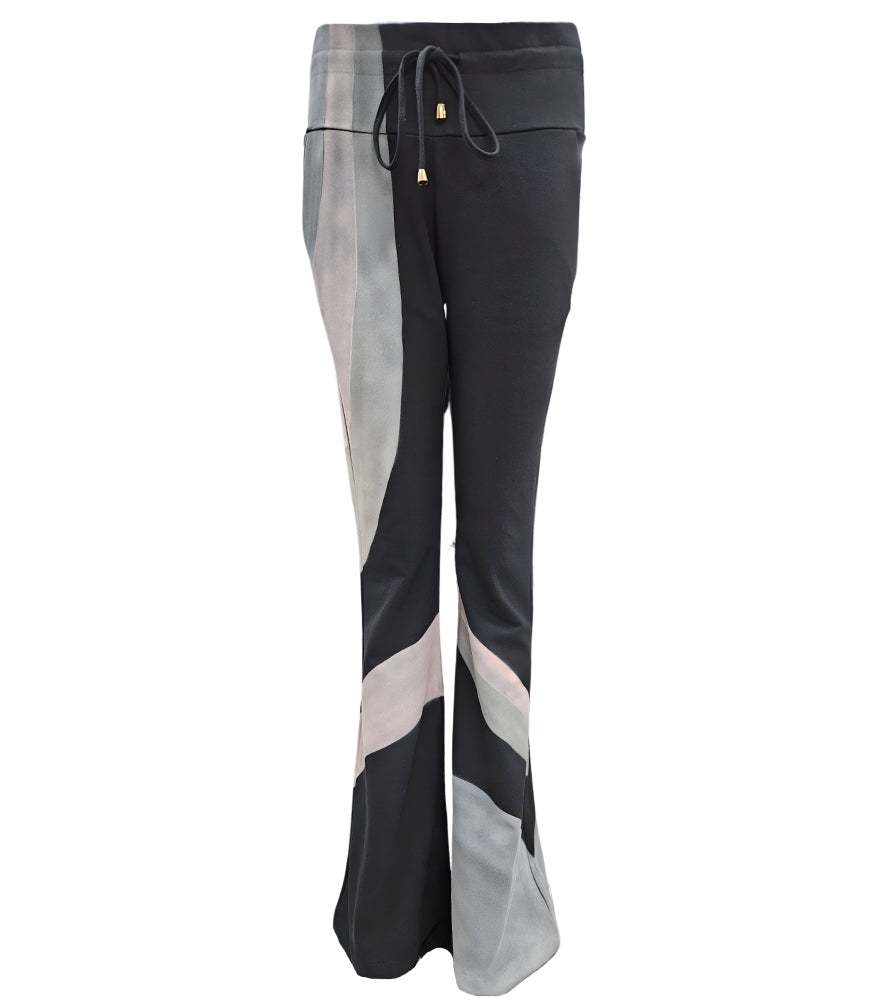 Stay in style with these super cool Designing Hollywood X Madison Maison Black Flare Sweatpants! They are made with the best cotton in Italy and even hand-painted. These pants are here to make you stand out! Get ready to catch people's attention with these fantastic pants that make your outfit look awesome!
Pair Black Flare Sweatpants with the Following
Team them up for a casual and trendy look with a basic white t-shirt and your favorite sneakers. 
If you're in the mood for maximum comfort, opt for an oversized sweater or hoodie with some slip-on shoes.
To sport a sporty vibe, throw on a sporty jacket and finish the look with athletic sneakers. 
If you aim for a chic and effortless appearance, pair your black flare sweatpants with a fitted blouse or a tucked-in top, and complete the ensemble with ankle boots or stylish sandals. 
These versatile sweatpants can easily adapt to your style, so have fun mixing and matching!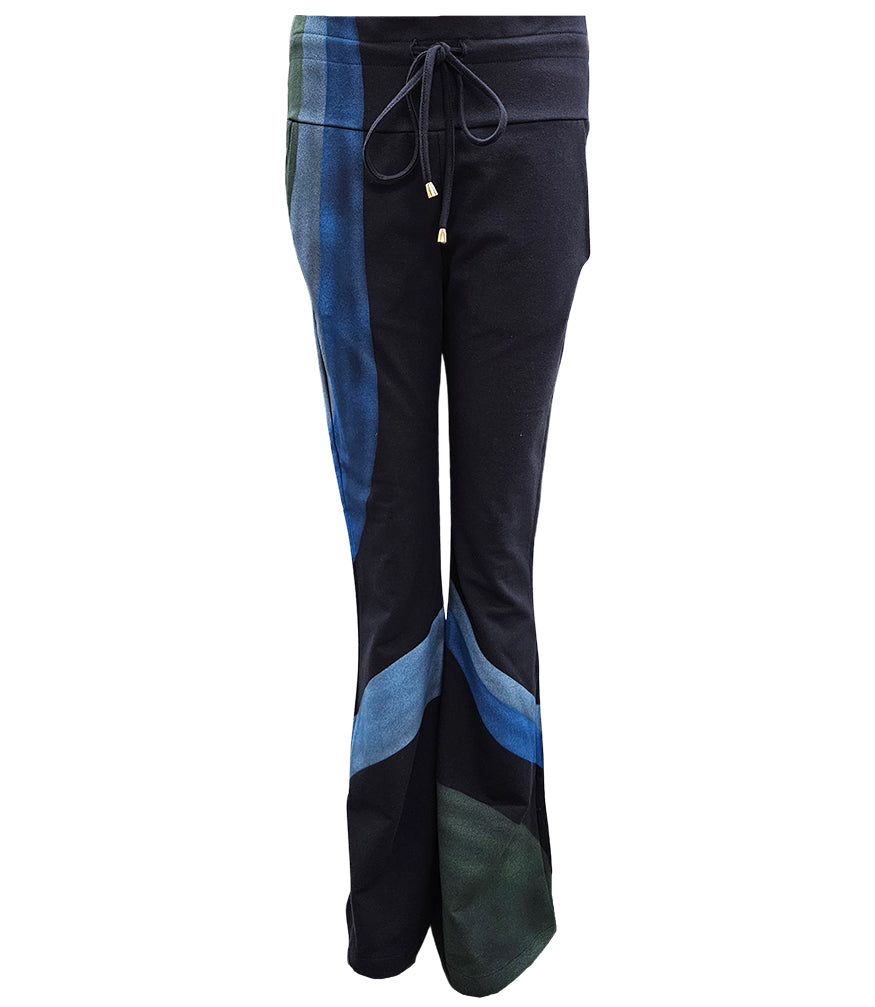 Designing Hollywood X Madison Maison makes these sweatpants. They are hand-painted and super comfy, and they come from Italy and are known for making things well. The fabric is light so you can move around easily, and these pants will last a long time. It's like having a bit of luxury with an Italian twist!
Looking for Pairing these Sweatpants?
Pairing Maison Navy Flare Sweatpants is simple and stylish. 
You can create a comfy yet fashionable look by teaming them up with a white graphic tee or a basic black tank top for a casual vibe. 
Wear a denim jacket or a cozy oversized sweater in a complementary color to elevate your outfit. 
Sneakers or white low-top trainers will keep the outfit relaxed, while ankle boots or platform shoes can make it more chic. 
Important Tip:

- Remember to accessorize with a statement necklace or a trendy belt, and you'll be ready to rock those sweatpants confidently, whether you're out and about or just lounging at home.
Most Comfortable Flare Sweatpants are Waiting for You!! - MADISON MAISON
Get ready to elevate your wardrobe with the most comfortable Flare Sweatpants collections at Madison Maison. They elevate your loungewear game while keeping you comfortable all day. 
At MADISON MAISON, our exclusive collection of flare sweatpants is crafted with care from high-quality materials featuring flared leg design that adds a touch of sophistication to your casual look. 
Whether you are relaxing at home or stepping out for a quick errand, our MADISON MAISON n is versatile enough to suit any occasion. So, feel free to pair them with your favorite tees, tanks, or sweaters & always experience unmatched comfort.
Choose our exclusive collection as your go-to choice for both relaxation & fashion!!